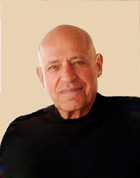 Robert Austin Boudreau is the kind of man one is likely to meet only once in a lifetime. He is a man who makes impossible dreams come true; a man who has committed his life to the arts; a man who never loses sight of the way in which education can propel young people out of a life of poverty and into a life enriched and enhanced by music and art. Chances are he is also the only orchestra conductor in the world who also skippers a 195-foot barge!
Boudreau's biography is a prime example of the way education changes lives. As the son of a chicken farmer-factory worker, Boudreau grew up in Massachusetts with little prospect of leaving his rural roots behind, until the day he picked up a trumpet and began to make music.
His talent soon took him to Juilliard, where he earned both undergraduate and graduate degrees, and then to Paris as a Fulbright Scholar at the Paris Conservatory. He also found time to earn a degree in English literature from Boston University.
Early in his career, Boudreau performed with the Metropolitan Opera Orchestra and the Edwin Franko Goldman Band. He taught music in various colleges before taking a position at Duquesne University in Pittsburgh. His first sight of that city's three mighty rivers – the Allegheny, the Monongahela and the Ohio – caused him to dream of a floating orchestra of woodwinds, brass and percussion playing free concerts aboard a barge, and traveling to riverfront cities and towns both near and far.
Aided by funding from the Pittsburgh-based H.J. Heinz Company, Duquesne University and others, Boudreau founded the American Wind Symphony Orchestra in 1957, and christened the barge that became his floating stage, Point Counterpoint.
Through the following two decades, Boudreau's reputation and that of his orchestra grew to such an extent that a new vessel became necessary. Famed architect Louis I. Kahn designed a self-propelled work of art that was named Point Counterpoint II. Since its launching in 1976 the ship has sailed more than 500,000 miles, and the orchestra has enchanted audiences in America, Canada, Europe, Scandinavia and the Caribbean.
Taken alone, the travels of Robert Boudreau and his orchestra create an unparalleled saga of arts on the move. But, he has also commissioned an unprecedented 400 works of contemporary music by prominent composers worldwide. And more than 1,500 young musicians have successfully auditioned for the orchestra, many going on to outstanding performing or teaching careers.
Boudreau has formed offshoots of the orchestra into educational, community and school-based initiatives that give young people a chance to turn their lives around through the study of music. And, not least of all, he has been a champion of environmental protection, touring the world's waterways and celebrating the natural beauty of the earth.
Often called the modern day "Music Man", Boudreau has been knighted by the King of Sweden for his universal goodwill efforts. He and his orchestra were allowed into the closed society of Soviet Russia in 1989, and were given extraordinary leave to find housing in private Leningrad homes.
Time magazine once wrote,
It may be that there is no greater innovative force in American music than Robert Boudreau.