Point Counterpoint II The Symphony Boat, The Floating Stage…
Designed by world famous architect Louis I. Kahn, Point Counterpoint II has been the waterborne home of the orchestra since its construction as a Bicentennial project in 1976. The streamlined, 195-foot long, steel vessel is equipped with a 75-foot-wide stage, the roof of which is raised up by hydraulic lifts at performance time. The stage area is spanned by an acoustical shell, and is equipped with a permanent pedestal seating designed by Japanese sculptor Yasuhide Kobashi.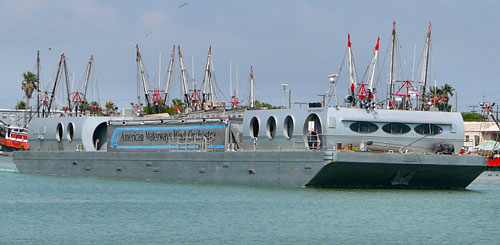 The arrival of Point Counterpoint II at the riverfront always causes a stir. The silver vessel, 195 feet long and 38 feet wide, once seen on a foggy day, was mistaken for a UFO!
The entire ship is a floating gallery that showcases this summer contemporary art and crafts from the Americas. A woodworker from Maine handcrafted the oak tables that are set into the ship's office and galley; and Finnish artist Eino Ruutsalo created the kinetic light sculpture that forms one wall of the art gallery in the lower deck.
Through the years Point Counterpoint II has been a glorious spectacle at many world-class events. She was there in New York Harbor for the Statue of Liberty Centennial in 1986 when the tall ships passed, and for each of the 13 ships, musicians aboard Point Counterpoint II played the appropriate national anthem. She was there on the Neva River in Leningrad in 1989, when Soviet Russia's Navy saluted her as part of their Navy Days celebration. Once again the Tall Ships gathered in 1989, this time on the Seine River to commemorate the bicentennial of the French Revolution, and Point Counterpoint II was there to salute their crews with their national anthems.
Leningrad and Paris were only two stops on the 3-year tour called "Ocean Blue Odyssey" that included 30 cities in 10 nations. The ship sailed the Seine, the Thames the Rhine, and through the Baltic and Irish Seas. Tours in other years found the ship sailing through the U.S., Canada and the Caribbean and covering more than 500,000 miles of the world's waterways.
Point Counterpoint II
Launch: November 20, 1975
Designer: Louis I Kahn, Architect
Project Architect: George Djurkovic
Ship Builder: Tidewater Equipment Corporation, Tidewater, Virginia
Length: 195 Feet
Width: 38 Feet
Distance traveled: 500,000 miles